How You Can Support Ukraine by Supporting Your Feet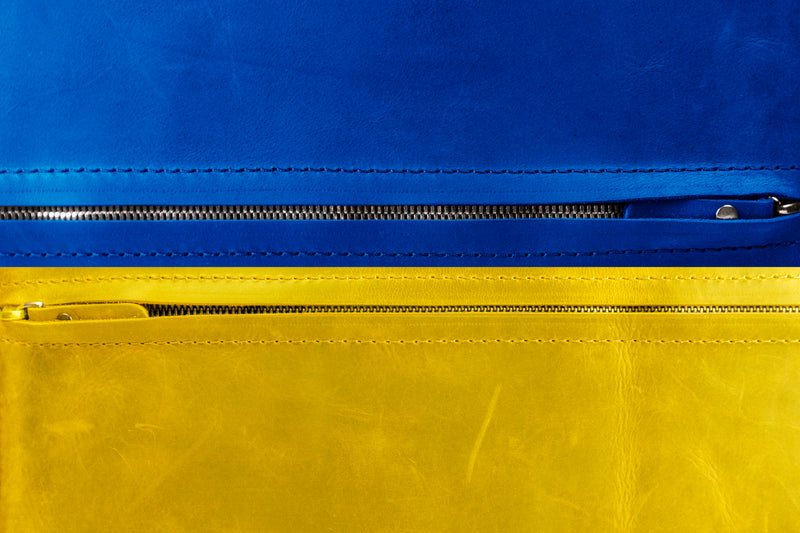 At Vitrazza, we're committed to designing and producing premium, ergonomic Glass Office Chair Mats and office accessories of the highest quality. On occasion, our business goals align well with opportunities to support an important cause. In this case, our goals aligned with the opportunity to support men, women, and children affected by the invasion of Ukraine.
We had been unsuccessful in finding suppliers in the U.S., so when we found a Ukrainian store that could produce great office footrests, we knew it was a great match. Beyond providing our customers with unmatched quality, we can send much-needed business to those still working in Ukraine.
We are thrilled we were able to form a win-win partnership and stand behind the quality of craftsmanship. In truth, it has created a friendship.
Beyond supporting one Ukrainian business, we wanted to find an additional way to support the humanitarian needs of its people. That's why for every Leather Footrest sold, we donate a portion of the sale to the GlobalGiving Ukraine Crisis Relief Fund. They provide humanitarian aid to Ukrainian refugees with necessities like shelter, food, and water.
GlobalGiving is a charitable foundation formed in 2004 to provide long-term relief programs around the globe. Since its inception, GlobalGiving has donated over $100M in funds to disaster relief efforts. According to the leading charity assessment organization, Charity Navigator, GlobalGiving received a perfect 4/4-star rating. Their score reflects the highest financial efficiency, sustainability, trustworthiness, transparency, and performance.
Want to learn more about GlobalGiving? Check out their full review on 

Charity Navigator

.
We are proud of this new product offering and believe you will love the all-new Leather Footrest too! What better way to effortlessly support your posture and businesses in Ukraine?