4.9 star rating
2836 Reviews
(2709)
(104)
(22)
(0)
(1)
Exactly what I needed
Review by Gregory L. on 26 Aug 2019
review stating Exactly what I needed
I must admit I had my reservations before I purchased my new chair mat, but those doubts were erased within one minute of using my new Vitrazza chair mat. Smooth as silk and yes, it does add a look of sophistication to my in home office.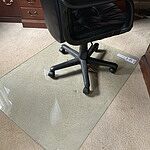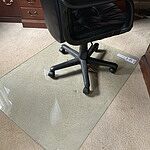 Love it!
Review by Roxette B. on 24 Jun 2019
review stating Love it!
What a difference this makes in my home office with a U shaped work area. Wished I had purchased years ago.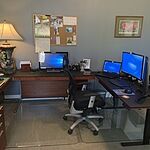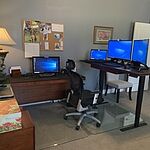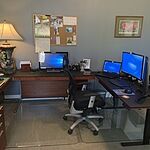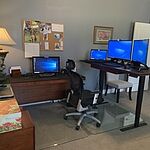 Magnificent desk accessory
Review by James m. on 31 Mar 2019
review stating Magnificent desk accessory
The Vitrazza chair mat is amazing. I was skeptical but so tired of years of ugly plastic mats. I LOVE this mat. It matches my Desk (which is also glass). It shines and stays clean (which I guess is because of the special coating). I recommend to everyone. Oh yes one last note if your tired of chair wheels grinding across your plastic mat- they will glide across the Vitrazza.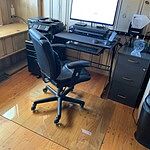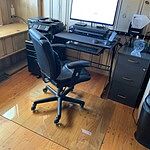 42 X 48 Glass Chair Mat
Review by Ronnie F. on 25 Jul 2019
review stating 42 X 48 Glass Chair Mat
Mat looks great. It's easy to move around on it Makes my home-office up-to-date . It arrived very quickly and was packed very well.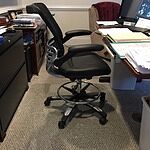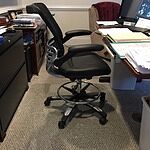 Rudolph_B_Store05
5 star rating
The Best Chair Mat.
Review by Rudolph_B_Store05 on 27 Jun 2019
review stating The Best Chair Mat.
This is the best and last chair mat you will ever have to buy. It is smooth sailing. I can back-up without having to rock my chair back and forth or turn around with no effort. It is super sturdy and easy to clean. You can get rid of your plastic mat. You will be very happy with your purchase of this mat.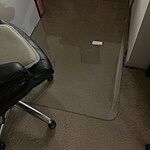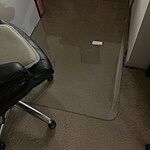 Q: How can I attach a diagram
A: If you'd like to send us a diagram for a custom design, please send to
sales@vitrazza.com
Q: i need one 66 x 69 is that possible?
Q: I am looking at the standard 36 x 48 mat. Is the 48" the length that runs parallel to desk?
A: Thank you for the question. Any standard, non-tabbed mat can be rotated and positioned either way. Please feel free to reach us directly if you have any additional questions.
Q: can the base of a desk rest on the mat? Will it support the weight?
A: We don't recommend setting a desk on a Glass Chair Mat, even though it can hold the weight. The desk will not sit level and the mat may not lay flat (due to weight on one side only).
Q: suitable for stone tile SLATE floor?
A: Absolutely! Each Vitrazza Glass Chair Mat comes with our Stabilities-a-dot bumper system, allowing you to use the mat on really any type of flooring. Feel free to call us if you have any additional questions @
1.800.711.8261