4.9 star rating
1185 Reviews
Exactly what I needed
Review by Gregory L. on 26 Aug 2019
review stating Exactly what I needed
I must admit I had my reservations before I purchased my new chair mat, but those doubts were erased within one minute of using my new Vitrazza chair mat. Smooth as silk and yes, it does add a look of sophistication to my in home office.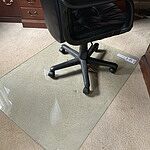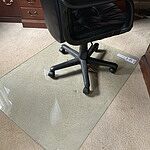 Love it!
Review by Roxette B. on 24 Jun 2019
review stating Love it!
What a difference this makes in my home office with a U shaped work area. Wished I had purchased years ago.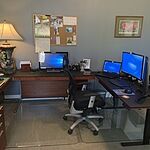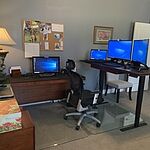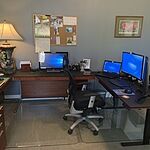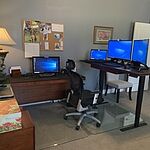 Magnificent desk accessory
Review by James m. on 31 Mar 2019
review stating Magnificent desk accessory
The Vitrazza chair mat is amazing. I was skeptical but so tired of years of ugly plastic mats. I LOVE this mat. It matches my Desk (which is also glass). It shines and stays clean (which I guess is because of the special coating). I recommend to everyone. Oh yes one last note if your tired of chair wheels grinding across your plastic mat- they will glide across the Vitrazza.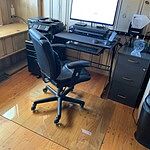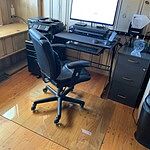 Mat arrived impeccably packed. Performs
Review by Robert R. on 23 Jan 2020
review stating Mat arrived impeccably packed. Performs
Mat arrived impeccably packed. Performs exactly as expected. Puts popular softer mats to shame. My wife loves it. It is for her home office. I only get to watch. Do not need new casters. Originals work just fine. Wish I had bought it years ago. Great product that makes sense. Not a frivolous purchase.
Cool
Review by Shirley O. on 22 Jan 2020
review stating Cool
Really like it....helps us enjoy sitting at the computer.
Q: How can I attach a diagram
A: If you'd like to send us a diagram for a custom design, please send to
sales@vitrazza.com
Q: i need one 66 x 69 is that possible?
Q: I am looking at the standard 36 x 48 mat. Is the 48" the length that runs parallel to desk?
A: Thank you for the question. Any standard, non-tabbed mat can be rotated and positioned either way. Please feel free to reach us directly if you have any additional questions.