The New Ergo Choice
Your team spends long hours at the office, they deserve a workspace that's dreamy. Glass Office Chair Mats by Vitrazza will give them style and ergonomic comfort, leading to an easier day at the office.

Request a quote below.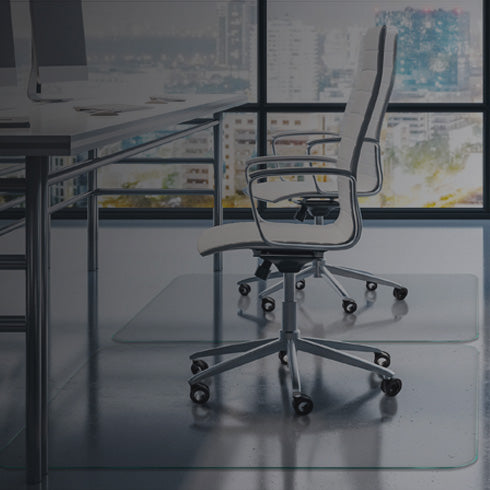 Style
Your office and workspaces are an extension of your brand. Nothing reflects the sophistication and durability of your brand quite like a Vitrazza Glass Chair Mat.

Protection
Office build-outs aren't just an expense. They're investments. Protect your floors with the last chair mats your company will ever need.

Ergonomics
Studies have shown rolling on Glass Chair Mats can reduce "bad" awkward postures by up to 76% compared to carpet tiles. Healthy employees are happy employees.
Considering a project of 3 or more?
For orders of 3 or more Glass Chair Mats, Vitrazza will provide a special quote. Discounts range from 15-30% off and our team will be extremely helpful; connect with us today. Fill out the contact form below, send an email to quotes@vitrazza.com, or call and speak with a Vitrazza Specialist at 1.800.711.8261 x2.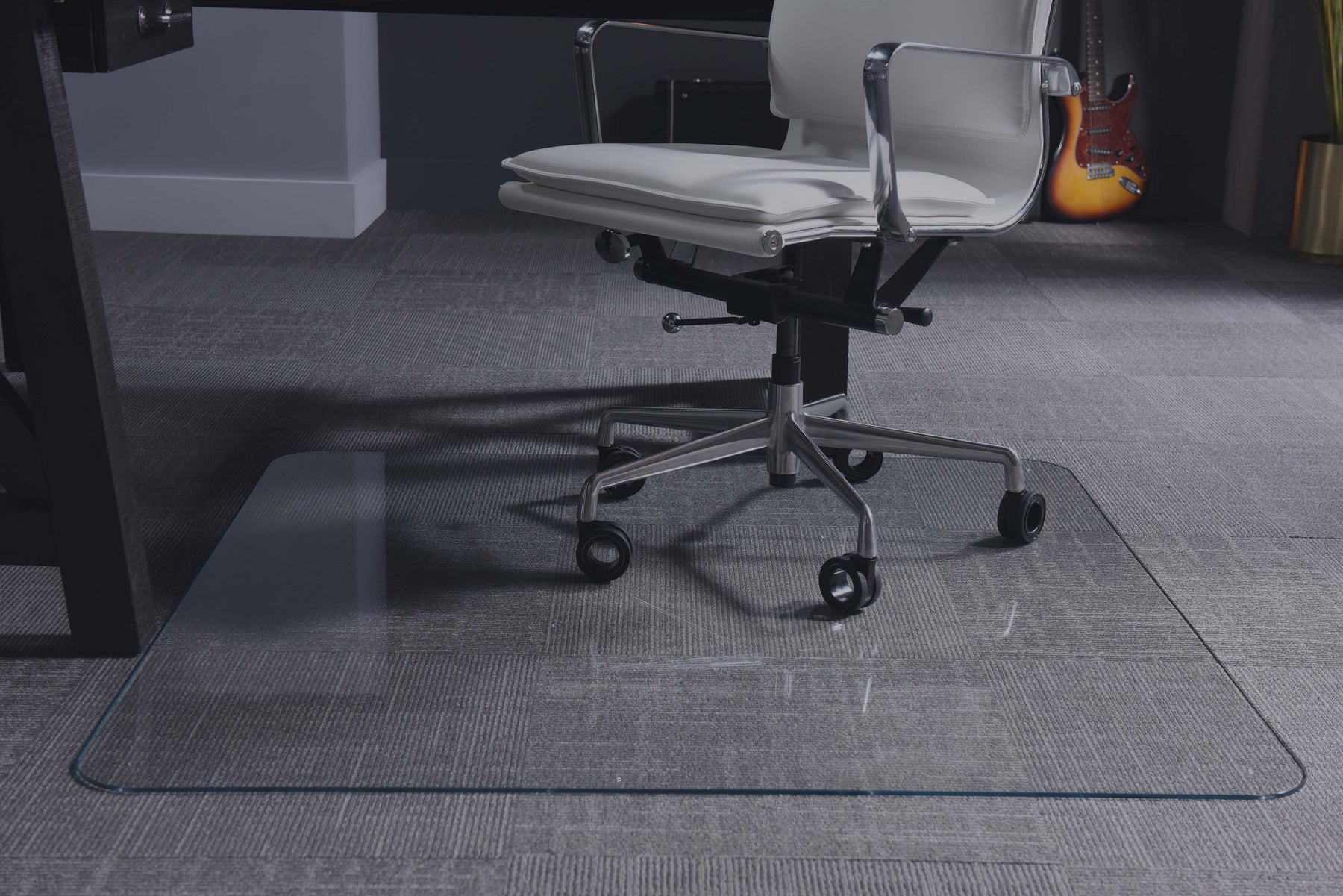 Ready to Roll With Us? We'll Make This Easy!
Getting a quote is easy. Click the button below to submit a Quote Request Form or call us at 1.800.711.8261
Our friendly team will follow up to discuss various options available to you, and answer any questions you may have.
Once our team understands your needs, they'll email you a custom quote. To accept, simply pay online or over the phone, and your order will be on its way to you within 2 business days for in-stock items.
Glass Chair Mats Will Transform Your Office
Proven ergonomic comfort, a designer look, and super-strong glass, this is what you can expect from America's #1 Glass Office Chair Mat. Imagine buying the last chair mat your team will ever need.
For many of our business customers, the choice is made when they discover how much money they'll save annually on replacing damaged carpet and plastic mats in favor of a Vitrazza Lifetime Warranty.
Other customers value the increased team retention and productivity derived from working in an ergonomically optimized environment. Download our free case study to learn how Vitrazza has transformed both work and workspaces .
Over 1,000 Companies Trust Their Floors To Vitrazza
"Third mat I've purchased"
This is my 3rd mat. I recently moved & needed a smaller one. They are amazingly durable & great looking. Fast delivery (even during the pandemic) & great packaging. These things will not arrive broken. Plenty of rubber floor/carpet stays for anyone's needs. Couldn't be happier.
- Michael G.
Verified Buyer
"I have ordered many times"
I've ordered from this company quite a few times I've always had a great experience. This particular time I ordered the wrong size and they made the exchange process extremely easy and very quick. I will continue to recommend and purchase from this company first long as I'm in the market for any of the product offerings. I have ordered many times and have these for all of my employees as well as my wife's and my office at home.
- Mark F.
Verified Buyer
"Most incredible chair mat ever"
I spent my entire career at a desk. I owned my own business and I bought the best chairs and ergonomic anything because I knew how much it mattered to me and my employees. Those niceties made for better productivity and happier employees.
- Catherine M.
Verified Buyer
"Clean, clear, impressive"
In the past I would never have paid this much for a floor mat, but these are beautiful and impressive. I bought these for my employees, and they immediately noticed them. I bought one earlier for my desk, and it looks and works wonderfully. Yes, pricey compared to most other mat options, but for the beauty and functionality, definitely worth the price. If you have customers who see your workspace, this mat is a must.
- Daniel B.
Verified Buyer
"Glass chair mat"
Wow..what a great product. After going thru 6 'top of the line' plastic mats, I finally found a great mat. And the delivery was two days before the promised date. Awesome service..quality product. I have recommended Vitrazza to several other office workers. I own my own real estate brokerage, so spend several hours each day in one spot at the computer. Nice to have something under the chair that lets me roll with just a slight push instead of brute force. And made in the USA!
- Jackie C.
Verified Buyer
"This is my third purchase"
This is my third purchase. Great product. Packed well for shipping and easy to install. Unsurpassed quality. Mats are heavy so select the size carefully. Will likely purchase more for my office. Helps with maneuvering chairs on carpet.
- Gilbert L.
Verified Buyer
The Vitrazza Promise
Buy with confidence from America's #1 supplier of Glass Office Chair Mats.
• SGCC and ANSI Z97.1 Certified Tempered Glass
• Vitrazza In-house Quality Assurance Standards
• Coated with Invisible Shield Pro 15 to Resist Fine Scratches
• Transferable Lifetime Warranty (All Glass Products)
• 30-Day Satisfaction Guarantee with Free Returns
• Shipped from our national distribution center in Golden, CO
• American Customer Service In-house!