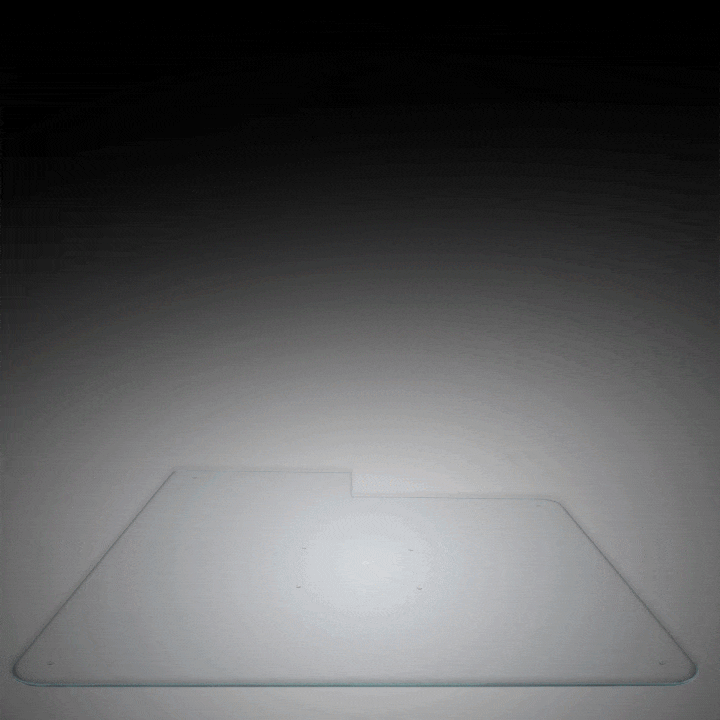 Get A Perfect Fit
A few simple measurements are all it takes to tailor your Glass Chair Mat to your workspace. Whether you need a solution that differs from our standard shapes and sizes or a customized shape for a unique workspace, we can accommodate custom designs up to 39 square feet.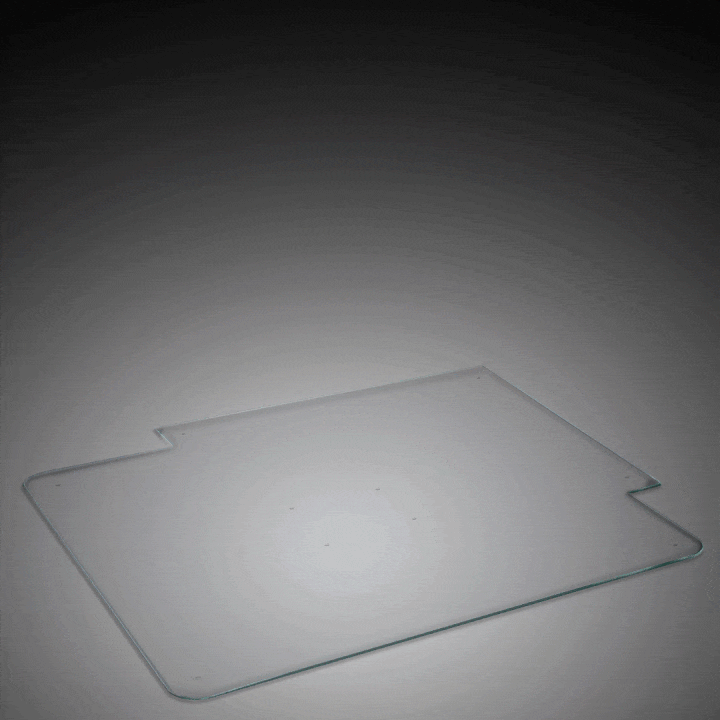 Make it unique. Make it yours.
In-house Vitrazza Experts are available to support you through each stage of configuration. Whether you need help figuring out where to start or already have a completed questionnaire, a specialist will review your information and arrange 5 to 10 minute call to collaborate on measurement and design. A few hours after that, we'll send you a 2D CAD design and a detailed quote for your review.
Already Know What You Need?
Download one of the worksheets below to fill in your custom measurements. When you're done, simply send it to quotes@vitrazza.com or submit the form below.
Let Us Work Up a Custom Design Quote
Our team will be extremely helpful, connect with us today. Fill out the contact form below, or send an email to quotes@vitrazza.com. You can also send a fax to 720.789.7535 or call and speak with a Vitrazza Specialist at 1.800.711.8261 x2
"Protects the carpet"
I purchased a clear, large chair mat for my husband's office which enables him the mobility to move around over thick carpeting. In addition, it protects the carpet under the chair mat. He is very pleased and so am I.
- Sandra S.
Verified Buyer
"Easily the very best carpet protector chair mat..."
The order process was easy, delivery was on time, unwrapping and placement required two people due to the size purchased, instructions and the video were accurate and helpful. We really like this new chair mat. Helps to make our home office room look elegant. Easily the very best carpet protector chair mat we have owned. The ease with which the chair moves, actually it glides on the surface, helps to facilitate the function of the chair. Well worth the price.
- Franklin R.
Verified Buyer
"Exactly what I needed for our stone tile flooring"
What a great solution for a chair mat. Specially it was a perfect fit four office area and was exactly what I needed for our stone tile flooring - it's wonderful transparent. Grime a performance perspective I've had the mat in place for several weeks and I love it. So definitely recommend highly - well worth the cost to me.
- Scott S.
Verified Buyer
"A back saver!"
I had my office chair on a rug on top of a hardwood floor. I struggled to move my chair around. I didn't want a plastic mat because I knew it would not look nice and would need to be replaced over and over. The glass chair mat allows my rug to be what you see when you look at the floor, not the office mat. My chair glides easily, and I don't have to struggle with moving my chair around any more. Great find and buy!
- Kathy L.
Verified Buyer
"Love this"
Love the chair pad. Love the smoothness. Looks beautiful Clean and clear. Doesn't scratch. Your tv commercial described the quality do truly !!! We are buying 2 more !!!
- Donna S.
Verified Buyer
"The clear Vitrazza mat is perfect!"
Needed a desk chair mat in our library. We have hard wood floors throughout the house. The clear Vitrazza mat is perfect!
- James C.
Verified Buyer
"Perfect Desk Chair Mat"
Solid glass makes the perfect desk chair mat for sliding your chair across any surface.The mat is practically invisible and a pleasure to move around.
- Richard C.
Verified Buyer
"Great choice"
Great choice, glass, for a desk floor mat. Shiny, smooth gliding. Professional help with making the best decision for your purchase.
- Donna C.
Verified Buyer
"My glass mat is stunning"
My home office has hardwood floors and I never really could find anything that protected and looked nice at the same time. The plastic mat were discolored and unattractive and the wheels and my feet were constantly tripping over rugs. My glass mat is stunning. The floors shows through, the wheels glide easily, and it makes my desk area look so much more professional. So happy with the purchase. The packaging protected it for shipping.
- Kelly T.
Verified Buyer
"Far superior to anything else"
I bought two mats after trying other solutions. One is in a carpeted room and the other room has a tile floor. In both cases, the mats are far superior to anything else I have tried. The added benefit of having a clear mat is that it blends into the room, rather than creating an unwanted focal point.
- John R.
Verified Buyer
"Great look and feel, the quality is clear"
We purchased 6 of these units and from the personnel that received them I'm hearing nothing but good things. The look is very clean and movement is smooth as silk. They looked so good I bought one for myself at home and couldn't be happier.
- Michael L.
Verified Buyer
"The best choice"
Protects the floor and chairs and adds a touch of class to the office.
- Joe M.
Verified Buyer
"I should have made the move months sooner!"
Thought long and hard before making the investment. What a mistake. I should have made the move months sooner! My chair glides around so effortlessly . Opening my lap drawer and getting to a file cabinet is no longer a hassle. The hubless wheels make every move a thoughtless nudge. Ingenious shipping made set up a breeze. Ordering and payment were accomplished with ease and arrived as promised. I love it! Thank You Vitazza! Show Less
- Jacob C.
Verified Buyer
"Effortless Gliding"
I found my new Vitrazza Glass Chair Mat to be everything the it was advertised to be and more. As well as my wife would attest to what I just wrote. I am sorry that I waited so long to invest in this product. All of the people at Vitrazza were very helpful in sizing and helping me get the most out of the product. Thank you.
- Kent H.
Verified Buyer