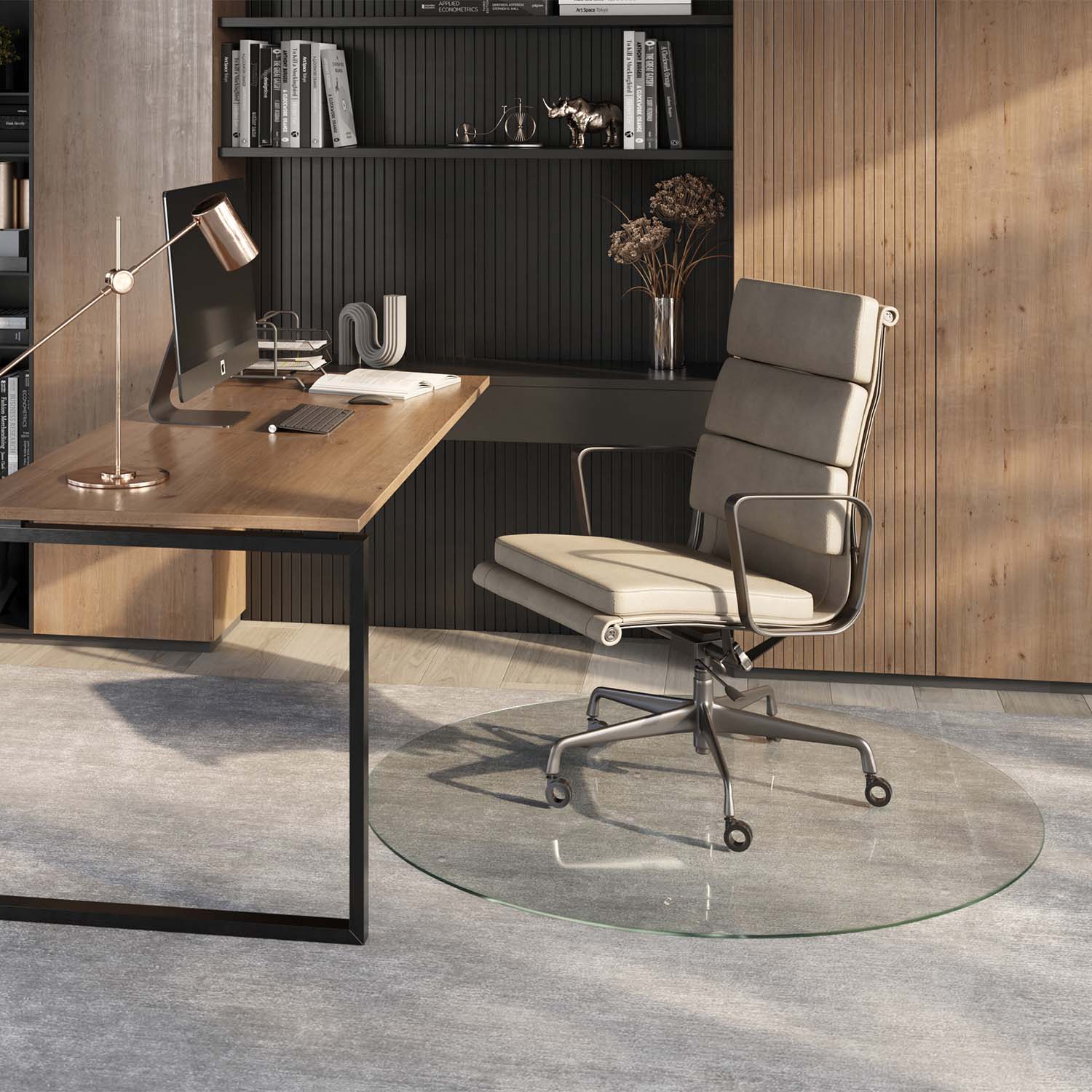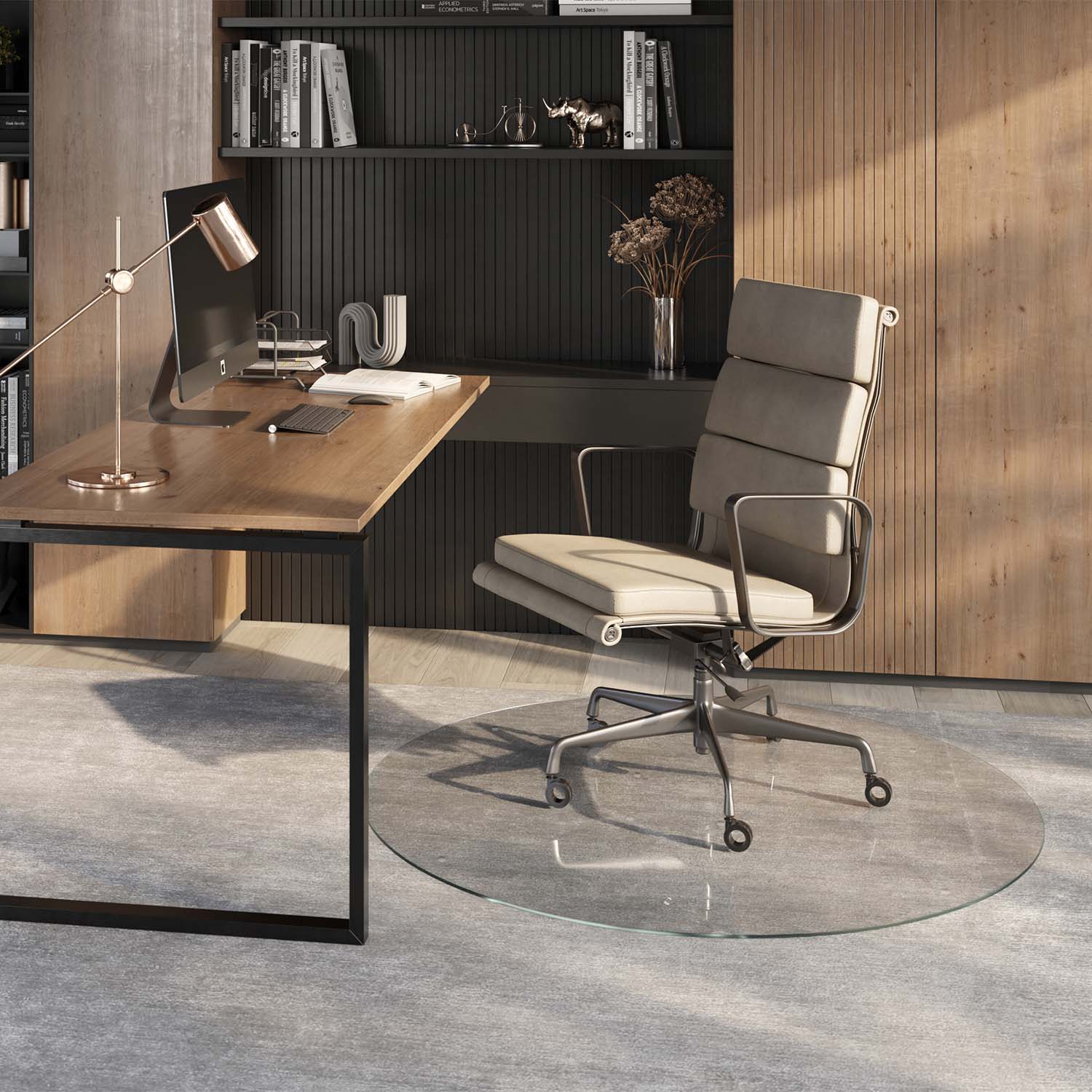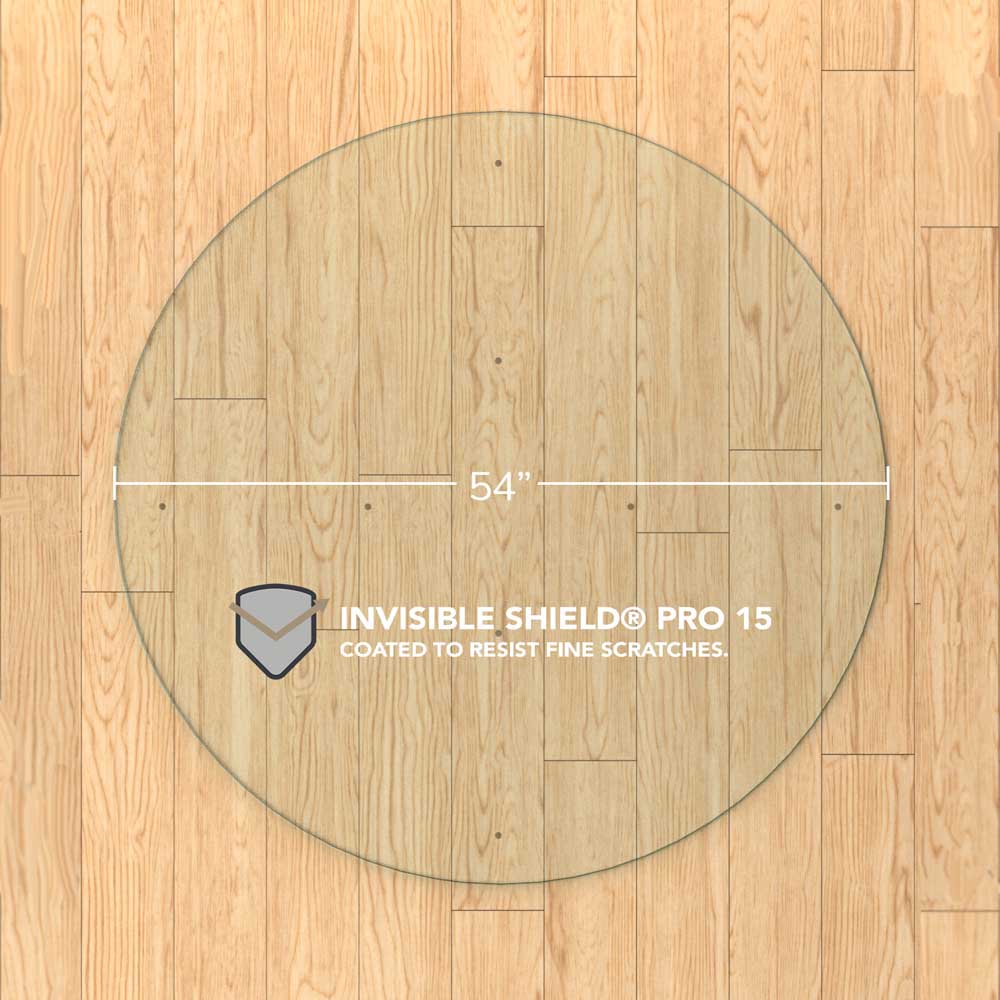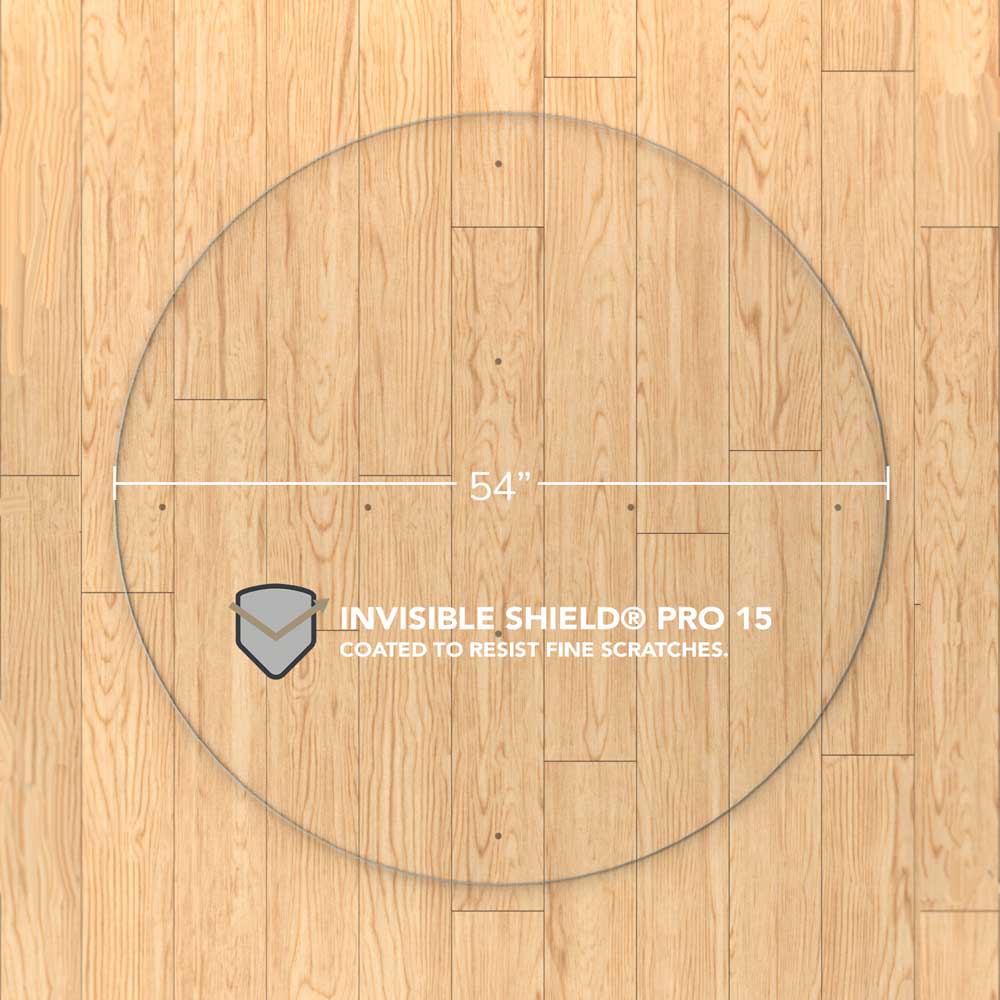 54" - Round Glass Chair Mat
Curves define iconic structures. So, one of these timeless designs can be a statement piece in an office ordered by straight lines. Symmetry, style, ergonomic comfort, freedom (to move!). Designed to work on all floor types.
---
Ships Same Day When You Order by 2:30 pm MT M-F.
---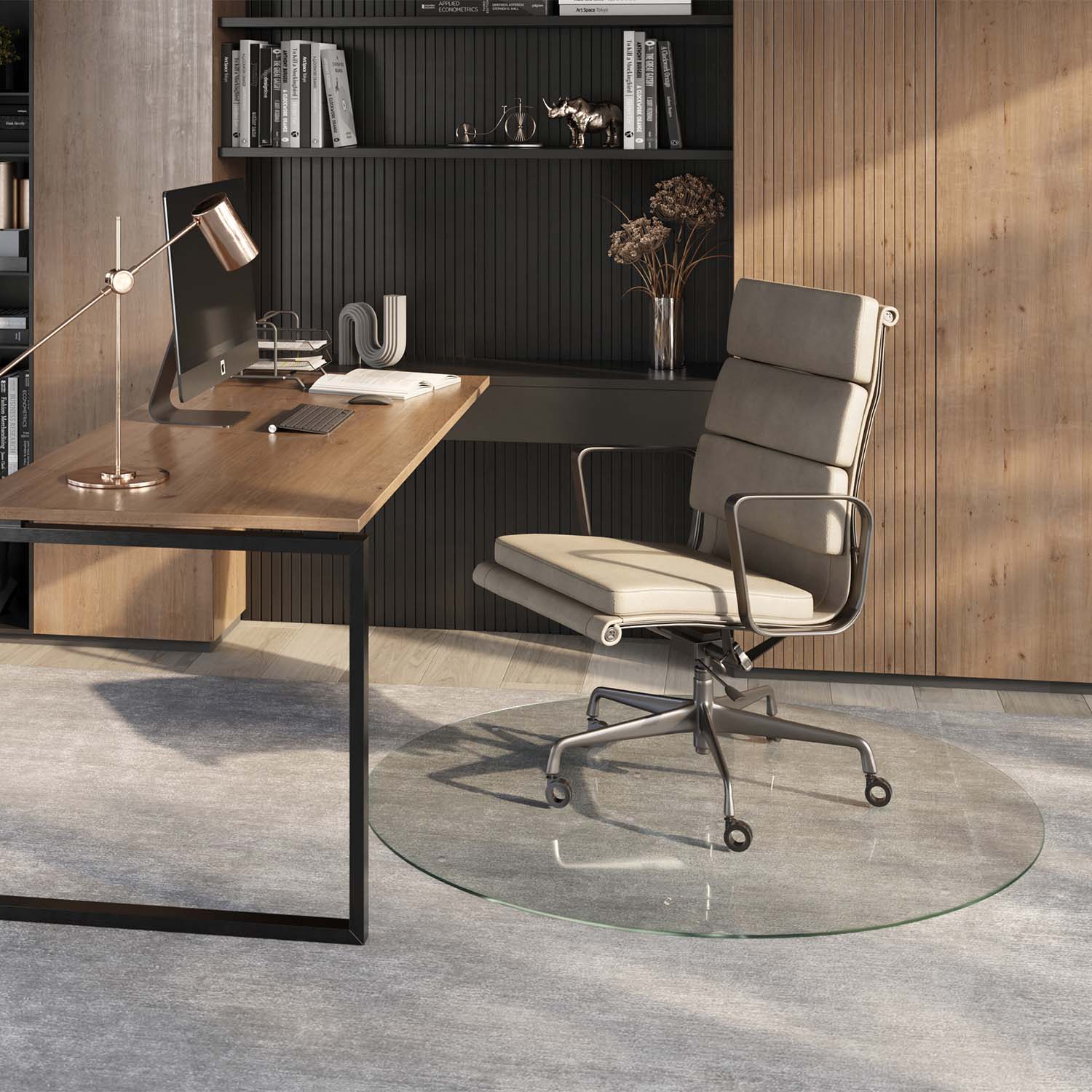 Actual Size: 54" Diameter
Weight: 49.3 Pounds
Super-strong 1/4" Thick Safety Glass
Made by spec to 10,000 psi
Tested to over 1,000 lb
Invisible Shield® Pro 15 Coating to Resist Fine Scratches
Furniture-Quality Polished Edges
Mini-Bevel
Made in the USA
The Vitrazza Care Envelope

A curated package of essentials to ensure a great experience with your Vitrazza Glass Chair Mat.

Handling and Cleaning Tips
Easy Lift Tool
'Stabil-a-dot'™ Bumper System w/Diagram (keeps mat firmly in place)
We recommend following our Easy Measuring Tips to determine the ideal Glass Office Chair Mat size, personalized for your office!

While seated in your chair, move the chair around your office to determine the area your chair typically travels when accessing your filing cabinet or printer.
Tape off the area on the floor with blue painter's tape to best visualize the area you want your Glass Office Chair Mat to cover.
Using a tape ruler, measure the area of the blue painter's tape. We recommend measuring at least 2 times to ensure accuracy.
Once you have your ideal measurements, choose a Glass Office Chair mat from one of our 18 popular in-stock sizes, or visit our Vista Collection to design your custom Glass Chair Mat.
Seeking additional assistance? Our Customer Care Specialists are here for you. Call 1.800.711.8261
Free Shipping to the Lower 48 States

Click here to request a shipping quote for Alaska or Hawaii

All orders ship from Golden, CO

All Glass Chair Mats individually boxed

All shipments fully insured

Mat Weight: 49.3 Pounds
Packaged Weight: 63 Pounds
Package Dimensions: 57" x 57" x 2"
Shipping Method: FedEx Priority Freight (Dock or Curbside delivery)

Vitrazza ships via FedEx Ground or FedEx Priority Freight depending on item size. FedEx Ground shipments do not require an appointment or a signature. For Priority Freight shipments, FedEx will call to set an appointment. Included service for freight shipments is "curbside" or dock delivery, it does not include a lift-gate or inside delivery.

Click here to request a shipping quote for Alaska or Hawaii
Actual Size: 54" Diameter
Weight: 49.3 Pounds
Super-strong 1/4" Thick Safety Glass
Made by spec to 10,000 psi
Tested to over 1,000 lb
Invisible Shield® Pro 15 Coating to Resist Fine Scratches
Furniture-Quality Polished Edges
Mini-Bevel
Made in the USA
The Vitrazza Care Envelope

A curated package of essentials to ensure a great experience with your Vitrazza Glass Chair Mat.

Handling and Cleaning Tips
Easy Lift Tool
'Stabil-a-dot'™ Bumper System w/Diagram (keeps mat firmly in place)
We recommend following our Easy Measuring Tips to determine the ideal Glass Office Chair Mat size, personalized for your office!

While seated in your chair, move the chair around your office to determine the area your chair typically travels when accessing your filing cabinet or printer.
Tape off the area on the floor with blue painter's tape to best visualize the area you want your Glass Office Chair Mat to cover.
Using a tape ruler, measure the area of the blue painter's tape. We recommend measuring at least 2 times to ensure accuracy.
Once you have your ideal measurements, choose a Glass Office Chair mat from one of our 18 popular in-stock sizes, or visit our Vista Collection to design your custom Glass Chair Mat.
Seeking additional assistance? Our Customer Care Specialists are here for you. Call 1.800.711.8261
Free Shipping to the Lower 48 States

Click here to request a shipping quote for Alaska or Hawaii

All orders ship from Golden, CO

All Glass Chair Mats individually boxed

All shipments fully insured

Mat Weight: 49.3 Pounds
Packaged Weight: 63 Pounds
Package Dimensions: 57" x 57" x 2"
Shipping Method: FedEx Priority Freight (Dock or Curbside delivery)

Vitrazza ships via FedEx Ground or FedEx Priority Freight depending on item size. FedEx Ground shipments do not require an appointment or a signature. For Priority Freight shipments, FedEx will call to set an appointment. Included service for freight shipments is "curbside" or dock delivery, it does not include a lift-gate or inside delivery.

Click here to request a shipping quote for Alaska or Hawaii