Design the Perfect Small Home Office with These Hacks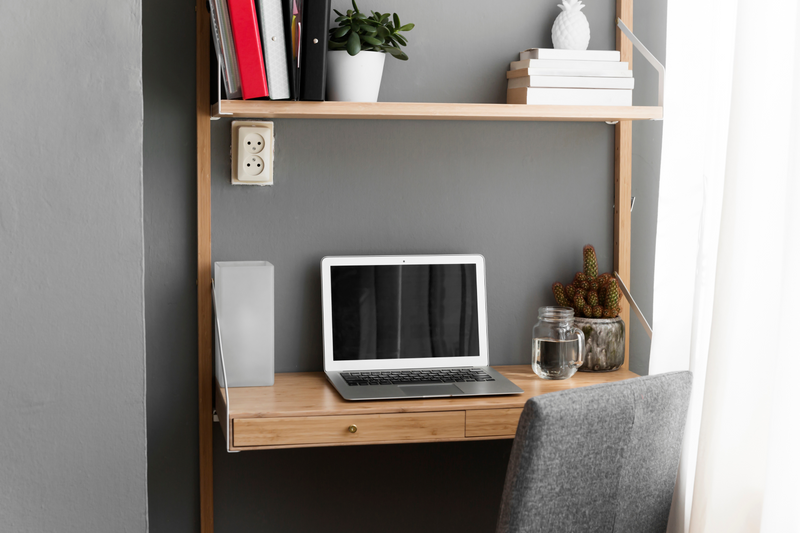 The pandemic has permanently changed the way we work. Fully remote and hybrid workforces are now just as common as in-office work. Many of us have had to make office spaces out of closets, nooks, guest bedrooms, and dining rooms. Figuring out how to transform a tiny space into a Zoom-ready workspace is no easy feat, but with the right hacks, it can be done. These guidelines serve to inspire the process.
To Make a Home Office in a Small Space, Focus on Efficiency
The most important aspect of organizing a small office is efficiency. Every decision about the setup should maximize productivity. You'll always be two steps ahead by drafting a "must-haves" list for your small office layout. To get started, analyze your calendar and outline your day-to-day needs.
If your role requires a high degree of output, having a sufficient number of monitors to keep essential apps and windows visible might be crucial to efficiency. For others, a giant whiteboard may be more helpful.
If your schedule has hours in virtual meetings, you may want to prioritize a design centered around comfort and privacy. If it's "cameras on," an appropriate backdrop is essential, too.
On the other hand, a creative professional who spends time sketching may need a standing desk perfectly positioned to capture the best light, along with a strategically placed shelf for art supplies.
Regardless of your role, make a short list of items that support your efficiency, and consider removing anything that doesn't serve a purpose frequently.
Create a Personalized Small Office with Interior Design
In making the most out of a small space, there is no need to sacrifice style. Take inspiration from editorials or your favorite social media influencer. Just make sure to choose a look and feel that you will love for years, not until next season. To find a design that suits your work process and personality, take one of two approaches to small office design:
Minimalist Small Office Design
Minimalism is still trending for small offices, which can make customization tricky. Start with the basic office setup: a simple desk, office chair, and Glass Chair Mat. Then, don't be afraid to add character with a contemporary gallery wall, neutral window treatments, or a house plant.
Maximalist Small Office Décor
Conversely, maximalism tosses aside the notion of maintaining an almost-sterile ambiance in the office. To take a maximalist approach, find bold colors, textures, and your favorite artifacts to inspire creativity. Photos of friends and family, antiques, and collectibles can add panache to the cozy nook.
Likely one of these approaches appeals to you more than the other, serving as a litmus test of what a personalized office means to your efficiency and productivity. Your unique perspective matters, and there's no better place to express it than your workspace.
Small Home Office Ideas: Using Every Square Inch
Because the office is small, its organization should focus on using as much of the area as possible. These tricks of the trade will cut down on the clutter.
Find a Narrow Desk to Anchor the Miniature Workspace
Most workplaces are designed around the desk. So when there isn't a lot of real estate in the office area, consider using desks explicitly designed for small places. Don't compromise by repurposing whatever small furniture pieces are already around the house. Even a little DIY or wall-mountable desk is better than an old tray table. A purpose-built desk will maximize your style and efficiency.
Check out this Pinterest board for small desk inspiration!
Keep the Home Office Neat with Shelves, Storage Baskets, and Pegboards
When the square footage is low, look up. There is probably wall space for a narrow bookshelf. If not, consider hanging pegboards that use a variety of holders, shelves, and organizers. Books and folders will find their place there. Adding baskets or transparent boxes can create a series of stylish drawers to house office essentials.
Use a Mirror as a Whiteboard
A whiteboard is great for collaborative brainstorming or jotting down important dates. The downside, however, is it can make small spaces feel even smaller and more crowded.
To make the office feel more spacious, use a large mirror as a whiteboard. Dry-erase markers work perfectly on mirrors, and the reflection adds depth to the space, making it seem larger than it is.
Alternatively, a DeskGuard Glass Desk Mat can protect your desktop AND be a handy place to jot down notes!
Double Down on Small Furniture
If your small office has room for a bench or an ottoman, consider finding one that opens to reveal hidden storage with bonus seating. The office will appear larger with less often used items out of sight.
Utilize a Closet for Office Storage
Maybe your small office is a converted closet! That doesn't mean you should treat it like one.
Break free from the temptation to put everything work-related in the space if it doesn't fit. Rather than make the small office a storage room, store rarely used items elsewhere.
Invest in Small Office Functionality
Building an office is a project that requires investment. Beyond the time that goes into creating it, a streamlined workspace is likely to draw on financial resources, too. Investing in long-lasting décor, gear, and equipment makes sense for smaller offices.
Think "Years to Come" when Creating a Flawless Small Office
As mentioned, the choice of style and organization should make sense for the future. A smartly designed office space lasts decades, especially when it reflects personal tastes and consists of high-quality furnishings.
Cash In on Technology
Be sure you are constructing your office around your technological needs and consider the value of buying the best equipment to complete your tasks. Sometimes it is more economical to purchase a top-of-the-line computer that lasts rather than to replace it every other year.
This also rings true for printers, projectors, and monitors. By making the upfront payment, headaches are spared down the line when entry-level equipment starts showing its age.
Start from the Bottom Up
A small office doesn't mean you shouldn't be mindful of the floor below. A Glass Office Chair Mat protects the flooring underneath and adds touches of class and comfort.
In the past, people tried to get by with plastic floor mats, mainly over carpeting. This isn't recommended because they don't last and tend to dent and yellow over time. They also crack, curl, and get caught under the wheels of rolling desk chairs.
On wooden floors, plastic mats cause problems since they don't grip correctly. They slide around and grind dirt into wood floors, doing irreparable damage. Glass Chair Mats, however, stay put and can last a lifetime.
Because Glass Chair Mats are available in multiple shapes and sizes, including custom shapes, no area is too small for their elegance. The Brava Collection by Vitrazza features Glass Chair Mats that are affordable and space-saving, the perfect fit for a smaller office.
One of the benefits of a small office is that making it luxurious comes with ease. A Glass Chair Mat won't disrupt the feeling of the room since its transparency echoes both minimalism and maximalism. The Vitrazza design even boasts a mini-bevel for a smooth feel while gliding on and off the mat.
Conclusion
When designing a small office, the rules are simple. Study your work habits to find a setup that will function best. Then, nail down your personal style. Finally, create an organizational plan to use the space wisely.
Smart shopping is paramount when setting up an office, particularly a small one. Focus on collecting items that carry value, purpose, and meaning. And always keep multifunctionality in mind!
For big-ticket items, invest in products that will last. Whether it is the latest in tech, an ergonomic office chair, or a well-designed Glass Chair Mat, you will be glad you made a sensible purchase.
Creating a small-scale dream office can be challenging but working through the process with these hacks will help.