Do You Need A Chair Mat? Reasons You Do For All Flooring Types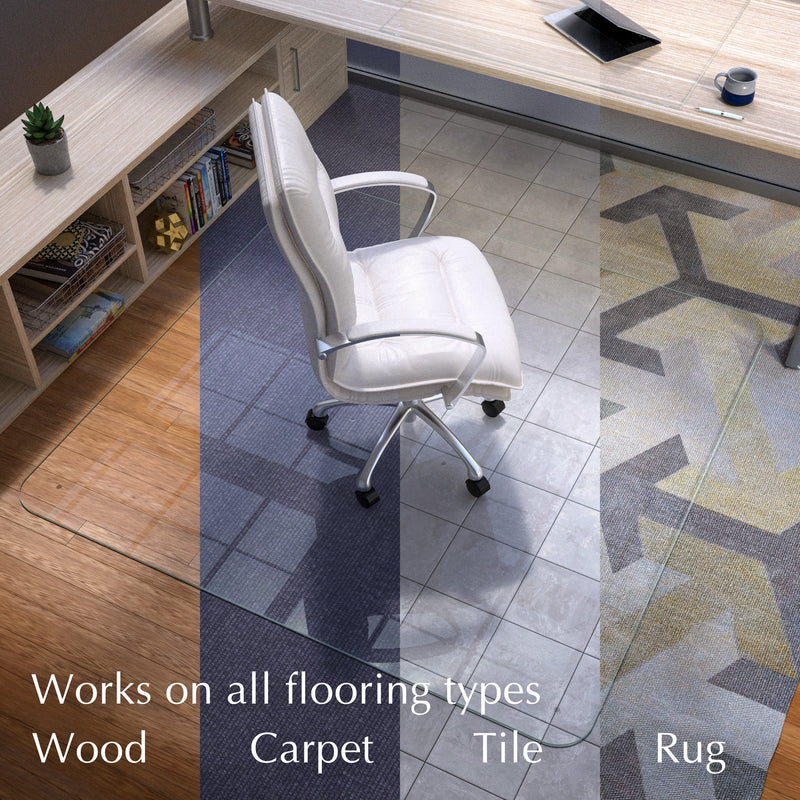 Do you need a chair mat? Whether you work from home or go to the office daily, it's always a good idea to add a Glass Chair Mat to your space to protect your flooring. They can help you get around easier, protect your valuable flooring, and add a classy look to any office space. They are a lifetime investment that carries lifetime value, and adding one to your space is sure to make going to work a whole lot smoother.
Are Chair Mats Worth It? 
Glass Office Chair Mats are absolutely worth it. From helping you to roll from place to place throughout your office space to adding a smooth style to your room, they are something that will transform your office and your life. They even come with a lifetime warranty, so you're sure to get your money's worth year after year. 
Do I Need A Chair Mat On Hardwood? 
While you might be thinking that you don't need a Chair Mat on a hardwood floor because you can easily get around already, it's time to consider the condition of your floors. Wood floors can get scratches very easily, especially when you're rolling around on them all day in your office chair. Purchasing a Glass Chair Mat with a lifetime warranty is a sure way to make sure that your hardwood floors stay protected while allowing you to get around with efficiency and smoothly throughout your busy workday.
Do I Need A Chair Mat For Carpet? 
Carpet and chair mats are a match made in heaven. Adding a Glass Chair Mat to your space is one of the best ways to make your carpeted room a little (or a lot) more comfortable for you to get around in throughout your workday. With our Stabil-a-dot™ Bumper System, you'll find it easy to use your Glass Chair Mat on carpeting of any length, including high-pile carpet. No need to spend a fortune replacing all your carpet just to get around; a Vitrazza Glass Chair Mat is here to make things simply smoother!
Do I Need A Chair Mat For Tile? 
Tile can be extremely bumpy when you're rolling around in your office chair throughout your day. This can get annoying over time, and on top of that, even tile can endure damage from chair wheels. A Glass Chair Mat is the perfect insurance policy to make sure that you don't need to replace beautiful tile sooner than you'd prefer to, and since the mat is see-through, you can guarantee that you won't ruin the look of your beautiful floor by adding it to your office.
Do I Need A Chair Mat For Laminate Flooring? 
Any floor can take on damage over time, including laminate flooring. Adding a Glass Chair Mat to your office space on top of your laminate flooring is a great way to preserve your flooring for a long time so that you don't damage it and need to replace it. Also, even though laminate flooring is already smooth enough to be compatible with your office chair, Vitrazza Glass Chair Mats are next-level smooth, making it easier to get around without taking away from the look of your office.

Vitrazza Glass Chair Mats are a fantastic way to help your office space become your chair's perfect match so that you can move through your workday smoother than ever, no matter what type of floor you have underneath.
Halle Homel - Instagram @halleswanderingsoul