4.9 star rating
409 Reviews
Rudolph_B_Store05
5 star rating
The Best Chair Mat.
Review by Rudolph_B_Store05 on 27 Jun 2019
review stating The Best Chair Mat.
This is the best and last chair mat you will ever have to buy. It is smooth sailing. I can back-up without having to rock my chair back and forth or turn around with no effort. It is super sturdy and easy to clean. You can get rid of your plastic mat. You will be very happy with your purchase of this mat.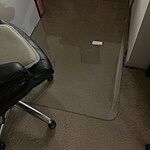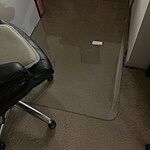 Excellent product
Review by Claude S. on 20 May 2019
review stating Excellent product
I bought the largest size available. It makes all the difference in the world. No more struggling to move, now silently gliding in any direction as needed. I would recommend these to everyone.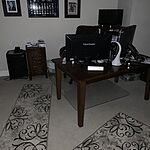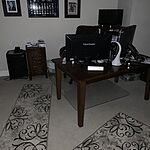 Love it
Review by Lori D. on 19 Feb 2020
review stating Love it
Greatest product
Catherine H.
5 star rating
Great Upgrade!
Review by Catherine H. on 19 Feb 2020
review stating Great Upgrade!
So glad I finally made the decision to go with the glass chair mat. It is such an upgrade from the old, cracked, hard to glide on plastic mats. I went with the larger size after ready other reviews and glad I did. It is so easy to glide across the mat and looks awesome. I already dropped a substantial glass bowl on the mat and neither the mat or the bowl cracked or chipped. Packaging was perfect with easy instructions on how to handle. Highly recommend!
Frederick f.
5 star rating
Love it.
Review by Frederick f. on 17 Feb 2020
review stating Love it.
Love it.
Q: Greetings. Our offices have a low-pile height carpet. Will rolling the chair off and on the edge of the mat be a problem?
A: Thank you for the question. All Vitrazza Glass Chair Mats have a "Mini-Bevel" around the top and bottom edge, making rolling on and off of the mat very easy with no risk of damage to the mat.
A: Hello John, thank you for the question. Vitrazza offers 12 sizes in-stock, ready to ship under our
Prima Collection
We even offer a custom design service and can make a mat specific to your needs. Check out our
Custom Glass Chair Mat Page.
. Feel free to give us a call at
800-711-8261
if you have any additional questions!