4.9 star rating
401 Reviews
Rudolph_B_Store05
5 star rating
The Best Chair Mat.
Review by Rudolph_B_Store05 on 27 Jun 2019
review stating The Best Chair Mat.
This is the best and last chair mat you will ever have to buy. It is smooth sailing. I can back-up without having to rock my chair back and forth or turn around with no effort. It is super sturdy and easy to clean. You can get rid of your plastic mat. You will be very happy with your purchase of this mat.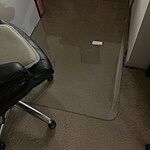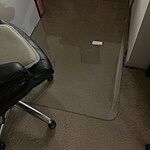 Excellent product
Review by Claude S. on 20 May 2019
review stating Excellent product
I bought the largest size available. It makes all the difference in the world. No more struggling to move, now silently gliding in any direction as needed. I would recommend these to everyone.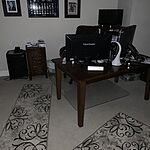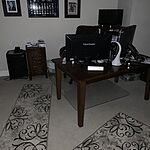 Debra
Review by Debra G. on 16 Jan 2020
review stating Debra
Debra
do it!
Review by James M. on 15 Jan 2020
review stating do it!
very very nice.
glides like a charm. shoulda done it years ago.
Amazing products and extraordinary service
Review by James D. on 12 Jan 2020
review stating Amazing products and extraordinary service
I loved my glass mat so much, I bought a second one for my wife. Totally exceeded my expectations.
Q: Greetings. Our offices have a low-pile height carpet. Will rolling the chair off and on the edge of the mat be a problem?
A: Thank you for the question. All Vitrazza Glass Chair Mats have a "Mini-Bevel" around the top and bottom edge, making rolling on and off of the mat very easy with no risk of damage to the mat.